Last updated on October 22, 2023
Are you looking to give your exterior a makeover? Has it been years since your house was painted, or do you want to spruce up the curb appeal of your home before putting it on the market? Whatever the reason may be, there are plenty of tips and tricks that can help you enhance the look and feel of your home's exterior.
From boosting architectural details to selecting colors that work well together, we've rounded up our top eight expert tips that'll have you transforming outdated exteriors into modern masterpieces in no time! Keep reading to learn how to get started on giving your exterior space an incredible upgrade.
Table of Contents
Roof and Gutter Maintenance
The condition of your roof and gutters is paramount for both aesthetic and practical reasons. A well-maintained roof contributes to the overall look of your home, and functioning gutters prevent water damage by directing runoff away from your property.
Regularly check your roof for any missing or damaged shingles and replace them promptly. Working with local experts whether that be a roofing company in Los Angeles CA or a contractor in Miami finding the right professional for your area means finding experts who understand the unique challenges of your climate.
This will help to ensure that your roof is in top shape and can withstand any weather conditions. Don't forget to inspect and clean your gutters regularly to avoid clogs and potential water damage.
Landscaping and Curb Appeal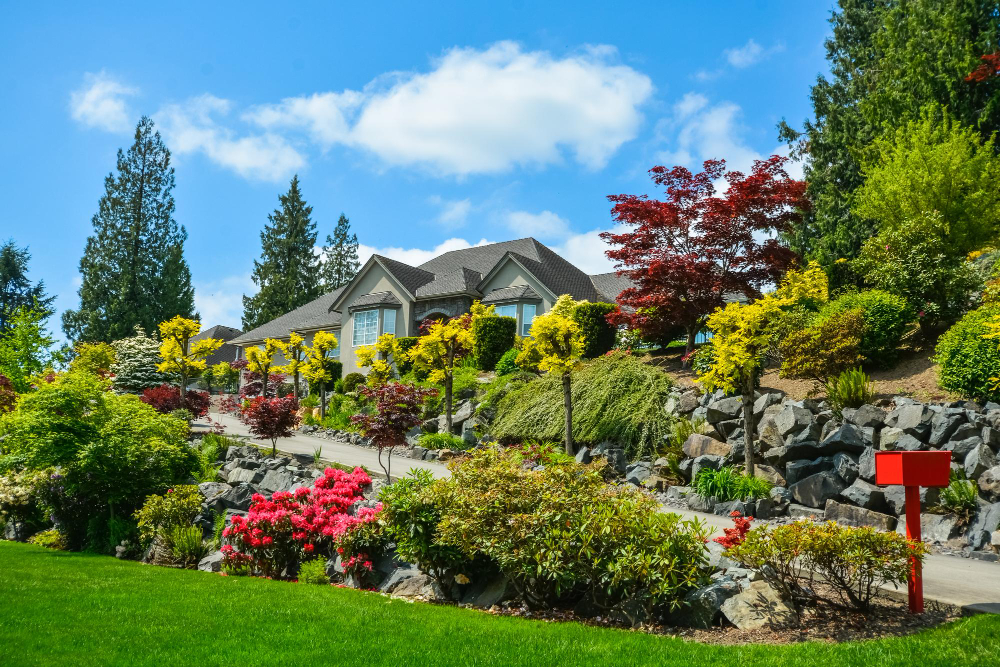 Paying attention to your landscaping can significantly elevate your home's curb appeal. Well-manicured lawns, flowering plants, and strategically placed trees can create a welcoming and visually appealing exterior.
Consider using native plants as they're adapted to local climate conditions and require less maintenance. Also, keep your lawn neatly trimmed and free from weeds. Mulched flower beds and pathways can add a touch of elegance to your yard, and accent lighting can enhance the beauty of your landscape at night.
If you're not sure where to start, hiring a professional landscaper can be helpful. They can design a layout that complements your home's architectural style and fits your taste.
Choosing the Right Paint Colors
The choice of exterior paint colors is a critical step in enhancing your home's appearance. It's essential to consider the style of your home, the character of your neighborhood, and the surrounding landscape when selecting colors. Lighter hues can make your home appear larger, while darker tones can make it seem smaller but more substantial.
A popular strategy is to choose three coordinating colors: one for the body of the house, one for the trim, and a third for accents such as doors and shutters. Don't be afraid to use color to highlight architectural details.
Always test your chosen colors on a small, inconspicuous area of your home before committing to painting the entire exterior. Consider consulting with a professional color consultant or designer to ensure your color choices enhance your home's best features.
Outdoor Lighting and Security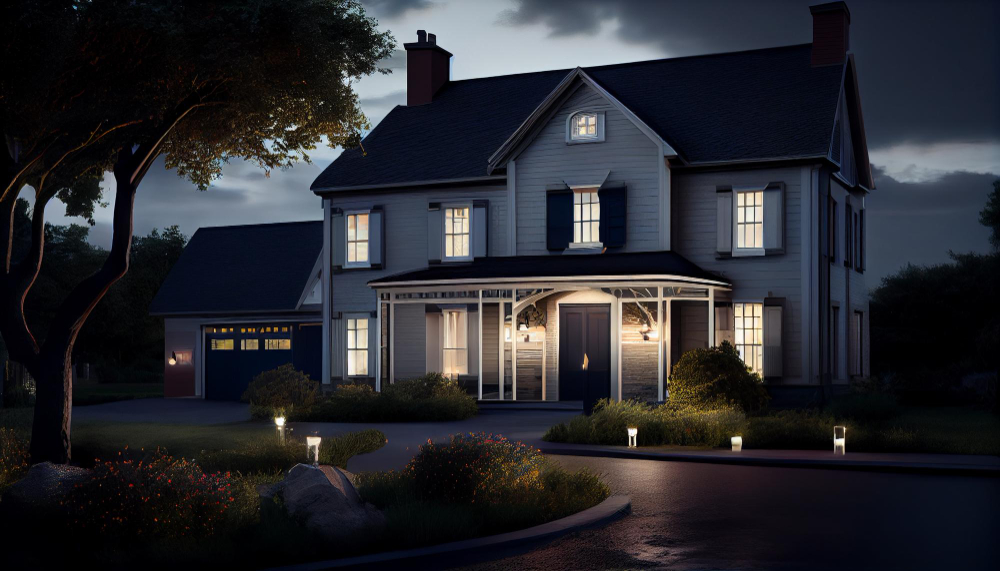 A well-lit exterior not only adds an aesthetic appeal to your home but also boosts its security. Consider installing outdoor lights in strategic locations, such as entryways, driveways, and walkways to ensure safe navigation during dark hours. Outdoor lighting can also highlight beautiful architectural details and landscaping features, adding depth and drama to your home's appearance at night. 
Additionally, motion sensor lights can deter potential intruders, increasing the safety and security of your home. For a more energy-efficient option, consider solar-powered or LED lights. Remember, the goal is to create a warm, inviting ambiance while enhancing safety, so avoid overly bright lights that result in harsh shadows.
Consulting with a lighting designer or landscape architect can help you create a lighting scheme that enhances security while highlighting your home's best features.
Entryway and Front Door Makeover
The front door and entryway are the first impressions of your home, setting the tone for what's to come. A beautifully designed entryway can offer a warm welcome, significantly improving your home's curb appeal.
Start by considering a fresh coat of paint for your front door. Bold, vibrant colors can make your door pop and give your home a contemporary look, while more muted, classic hues can convey a sense of traditional elegance.
Next, upgrade your hardware. Select door handles, knockers, or bells that complement the style and color of your door and the architectural style of your home. Adding a charming doormat and potted plants can make your entryway more inviting, while outdoor art or plaques can give it a personalized touch.
Siding and Exterior Cladding Upgrades
Your home's siding or cladding forms a significant part of the exterior aesthetic and is crucial for protection against the elements. Upgrading or replacing your siding can dramatically improve your home's curb appeal and increase its value.
Various materials are available, including vinyl, wood, fiber cement, and stucco, each offering different looks, durability, and maintenance requirements. 
Window and Shutter Enhancements
Windows and shutters play a significant role in determining the aesthetic appeal of your home. Properly maintained windows and shutters don't just look good; they also improve energy efficiency and security.
Consider replacing old windows with energy-efficient ones. Not only do they look more modern, but they also save on heating and cooling costs and increase your home's value. 
Outdoor Furniture and Decor
Incorporating outdoor furniture and decor is an excellent way to extend your living space and create a comfortable and inviting environment. When selecting outdoor furniture, consider the size of your space, the climate, and your style. Weather-resistant materials like teak, resin, and metal are great choices for outdoor furnishings.
Patio sets, porch swings, and hammocks can provide comfortable seating, while outdoor rugs, cushions, and throw pillows can add a splash of color and comfort. Outdoor decor, such as planters, sculptures, wind chimes, and bird feeders, can help personalize your space.
To keep the area functional after dark, add string lights or lanterns for a cozy and enchanting ambiance. Remember, your outdoor space is an extension of your home, so choose furniture and decor that complements your home's exterior and reflects your style.
The Takeaway
Enhancing your home's exterior is a significant undertaking, but with the right tips and tricks, it can be an exciting and rewarding project. By paying attention to details like maintenance, landscaping, paint colors, lighting, and decor, you can transform your home into a beautiful and welcoming space that you'll be proud to call your own.
Don't be afraid to consult with experts for guidance and inspiration. With a little effort and creativity, you can elevate your home's exterior and increase its value for years to come.
Related reading: